Diary Contest Carnival 2020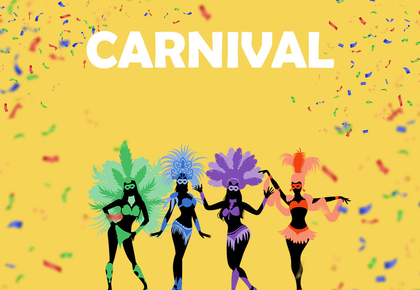 As you may know, Carnival is celebrated in 57 countries around the world and dressing up, playing music and celebrating are some of the common things these places share.
Of course, each city has their own traditions and way of celebrating.
In Rio, for example, over 5 million people celebrate together. During the parades, you can see amazing performances and giant floats that make the party even more magic!
Venice holds the most elegant Carnival in the world and brings a sea of masks and mystery during masquerade balls that are held over 20 days.
New Orleans' Mardi Gras features numerous parades as well, and the float-riders throw beads to the crowd to wear around their necks.
The Quebec Winter Carnival is one of the most different celebrations of the year. With over a million people participating, it holds night parades, ice skating, snow baths and much more!
In Germany, the Berlin Carnival of Cultures, celebrates diversity. It started as a protest against xenophobia in 1996. They have over 100 live music concerts and features people from all over the world.
We would like to know what is YOUR type of Carnival, if you would celebrate.
What's important that you bring with you?
Your friends and family, water to keep hydrated the whole night or a camera to record each moment?
Where would you like to be, if you could choose to celebrate Carnival, anywhere in the world?
If you have Carnival in your city, let us know more about it!
Participate until February 25 for a chance to get Stardollars